B2B Marketing is a lot different compared to B2C marketing. There are three distinct characteristics that make B2B Marketing different from B2C Marketing.
The first is the nature of customers. Business clients are aware of what solution they need and understand their requirements very well.
The second is the average value of every product or service provided, which is significantly higher than those in B2C.
The third is the long stretching sales cycles arising out of careful consideration, the high value the client is looking to invest in, and the pursuit of getting exactly what the client needs.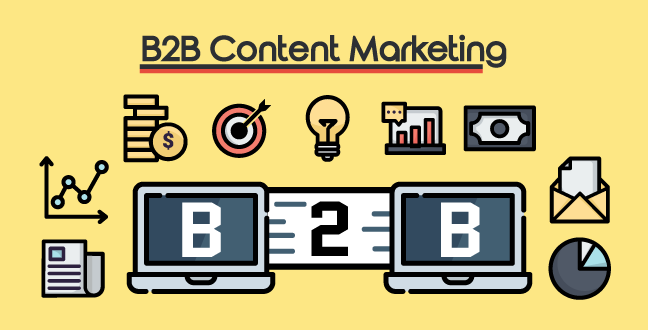 Image Courtesy – SEOpressor
So, while traditional marketing does work in attracting new customers, it is not as effective. What is essential to attract and convert customers in the B2B space is to exhibit your capabilities and expertise in the field you operate.
Content Marketing is by far the best option when it comes to accomplishing this. You can use infographics, blogs, video content and even podcasts to showcase your knowledge about your field and how capable you are at providing value solutions.
Understanding B2B Content Marketing
It is known far and wide that Content Marketing and SEO are two of the best marketing strategies for the long term. They take time and effort to set up but once the momentum builds up, they rake in leads and profits like no other strategy.
The best thing for B2B perhaps is that the most effective content marketing strategies for B2B tie directly into the E-A-T, Expertise, Authoritativeness, and Trustworthiness framework that Google uses to rank websites and web pages.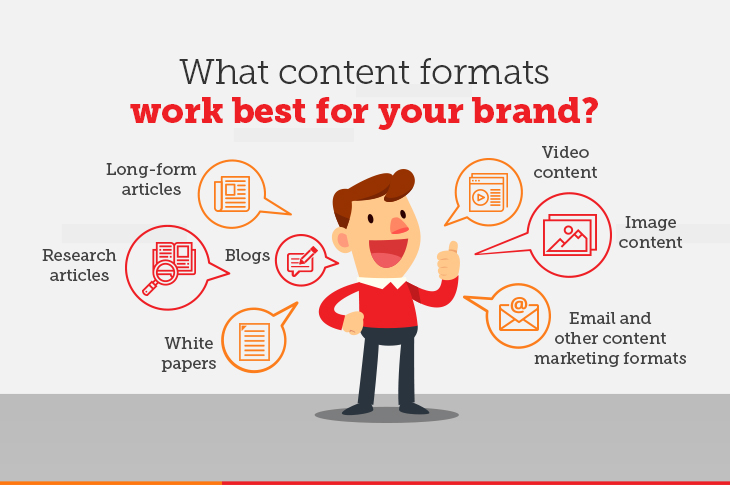 Image Courtesy – Scatter
So B2B clients know what they want and they search for experts in the field who can provide them with a solution to their requirements that is both effective and robust.
Different forms of content serve a similar purpose but the manner in which they disseminate the information differs vastly.
Each form of content is suitable for a different set of objectives so let us understand them.
Blog Posts –
A long-form content in the form of text is ideal for an elaborate display of your knowledge about the field you operate in.
Blog posts can be used to showcase how well you understand your field and the requirements businesses have in the field.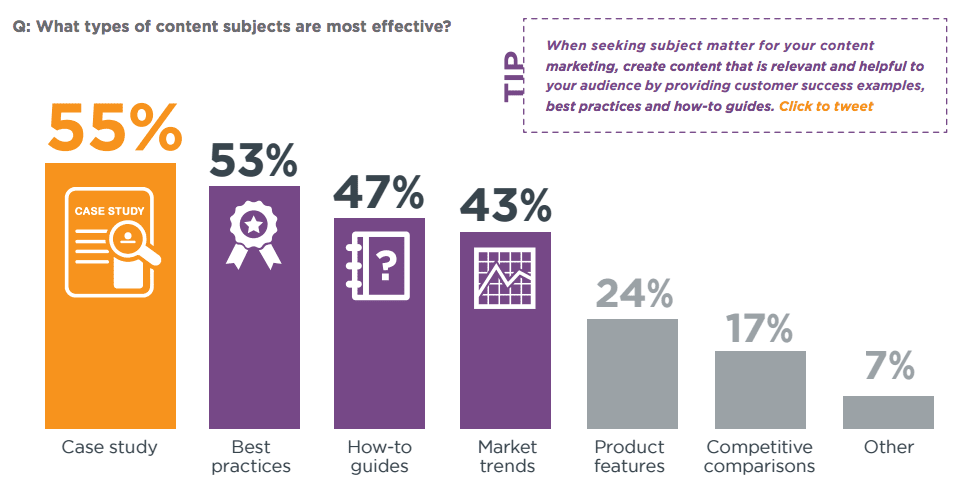 Image Courtesy – Smart Insights
You can publish guides, how-tos, original industry research, cover topics about the future and direction of your industry, etc. The aim here is to provide value to your readers while consolidating your position as an expert in your field.
Check out our blog on "Importance Of Blog For SEO | 3 Reasons Why A Blog Is Essential For SEO"
Infographics –
Visual content is impactful and it is very well capable of disseminating large amounts of information in an easy-to-understand, concise manner in the visual form.
Infographics are informative and can be used to publish industry stats, facts, and figures unearthed in the original Industry Research conducted by you.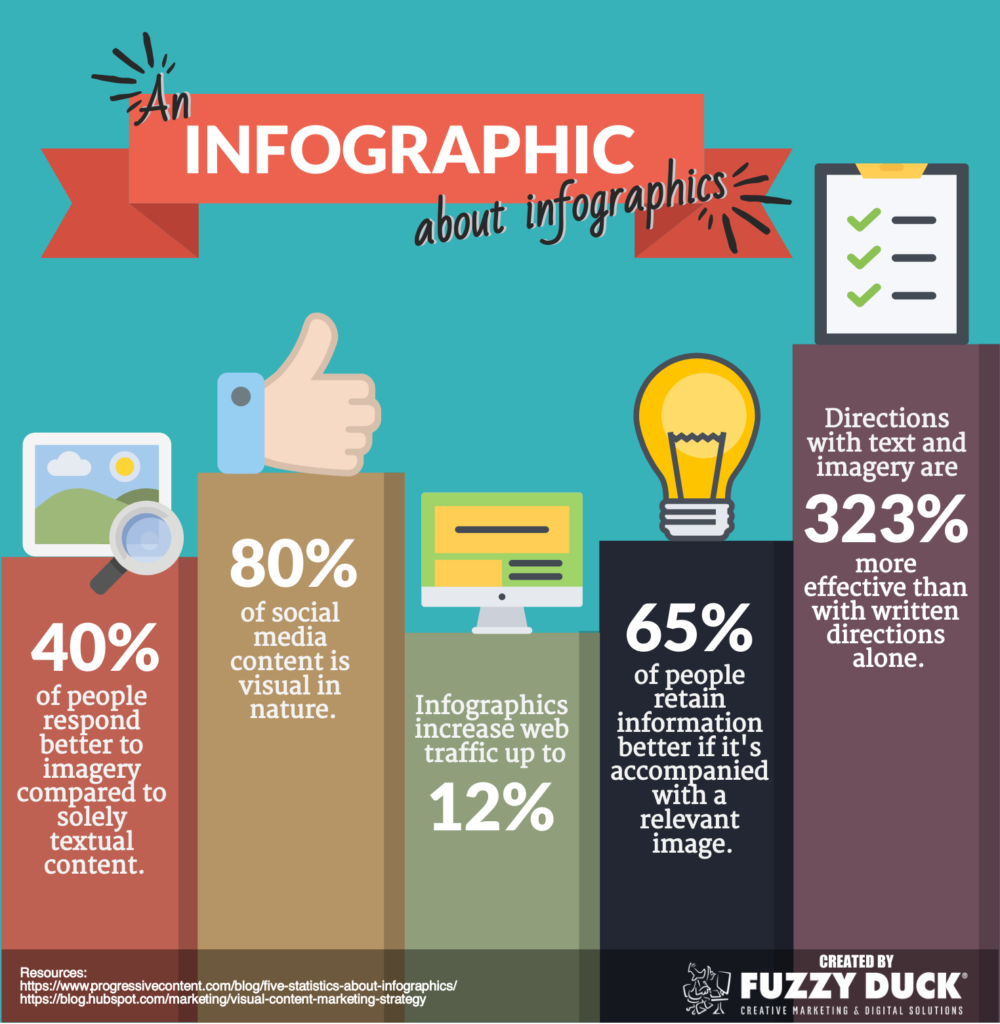 Image Courtesy – Fuzzy Duck
These visuals can be easily circulated across various different social media platforms your brand has a presence on and have a high likelihood of going viral and being well received.
Podcasts –
There has been a considerable rise in media consumption over the internet and podcasts have gained significant popularity.
You can host weekly podcasts which can include discussions about the current state of the industry, new developments, coming changes in laws and regulations governing your industry, etc.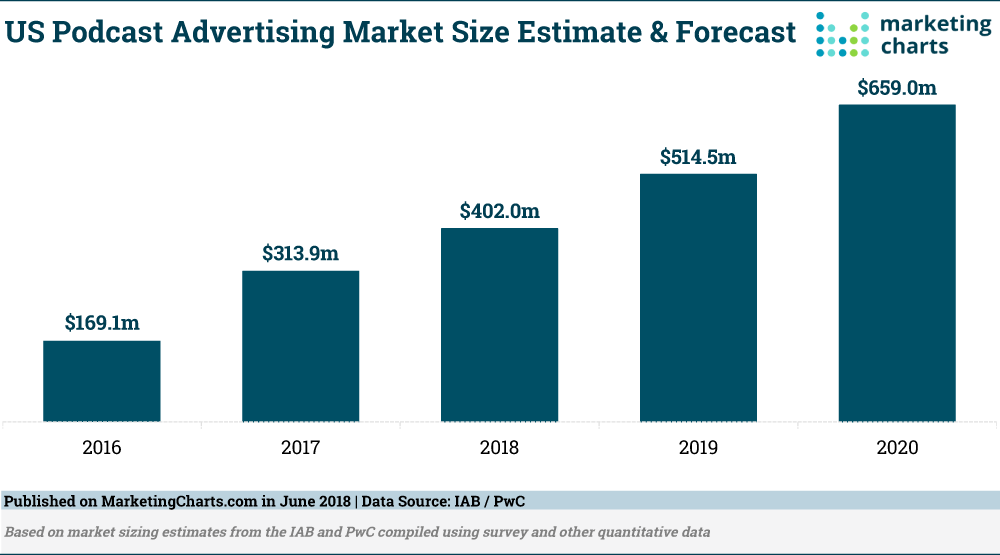 Image Courtesy – Campaign Monitor
The key here is to keep a conversational tone to your podcasts and to make sure the content is not too long. You can break down bigger topics into chapters so listeners have an easy time keeping track and saving time.
Video Content –
As stated earlier, media consumption is on a rapid rise and it is nowhere as evident as it is in the case of Video Content. Video Content Marketing is a powerful tool that is effective in both B2C and B2B spaces.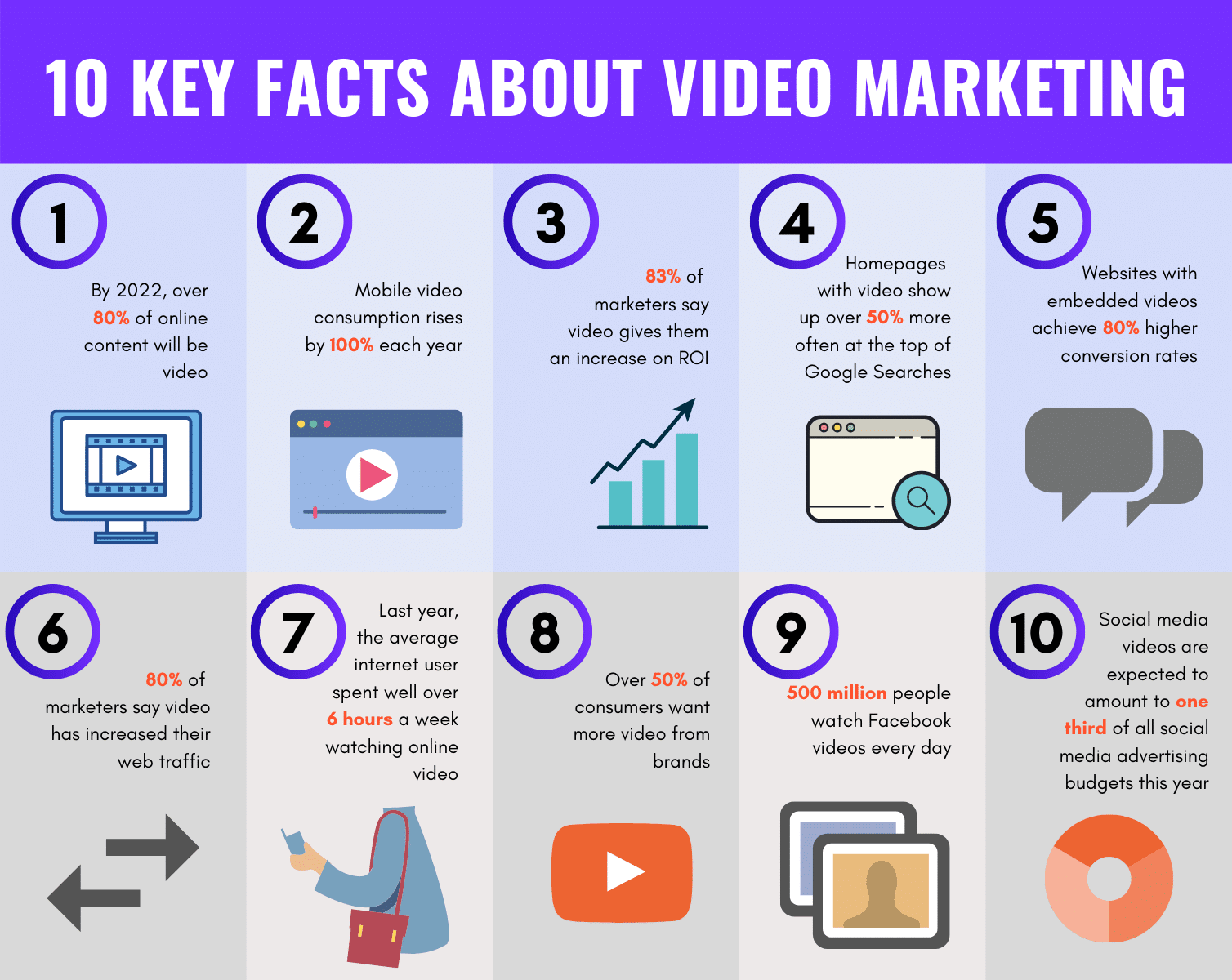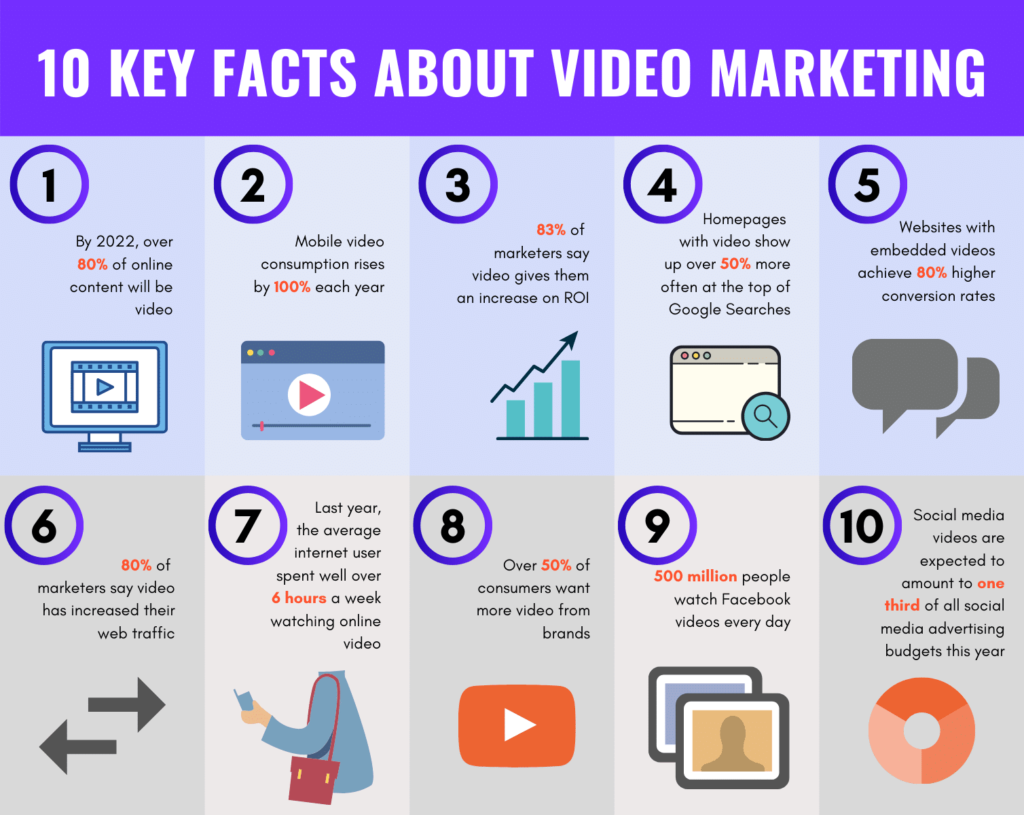 Image Courtesy – 90 Degree Design
You can use Videos for multiple purposes; you can create a how-to guide, publish interviews with industry thought leaders, explain how your products and services work, troubleshooting guides, reviews, customer testimonials, etc.
By now you may have understood how Content Marketing works so let's address the Elephant in the room.
How exactly does content Marketing benefit B2B Businesses?
You may have a slight idea about how Content Marketing can prove to be beneficial to businesses in general. B2B Businesses are different and we've highlighted that above.
So while Content Marketing is beneficial for B2B Businesses, it brings benefits to them in a manner that differs vastly from the general scenario.
Listed below are the 5 reasons why Content Marketing is the best solution for B2B Businesses:
Helps establish your business as Experts and Industry Thought Leaders –
When someone mentions Space launch rockets, we think of SpaceX, when someone mentions electric vehicles, we think of Tesla Motors, and why is that? Both the firms have well established themselves as Experts and Industry Thought Leaders.
Regularly publishing original high-quality content in different forms can help you do just this, and establish your business as an expert in that field. High-quality original content requires a lot of research which has its own benefits.
Research helps you identify trends in the early stages and helps you identify pain points that go unaddressed which can fuel innovation. So, this will not only help you stay ahead of your competition with valuable information but actually enable innovation.
Once you start spearheading your industry towards the future, your business will become synonymous with the industry itself which results in unparalleled growth.
Boosts SEO –
We earlier mentioned the E-A-T ranking framework used by search engines and how the goals of B2B content marketing tie right into it.
Relevant and High-Quality content significantly boosts your SEO and in terms grants your business a higher SERP rank.
High-quality content in itself is quite effective in generating large amounts of website traffic and that combined with a higher rank on SERPs yields exceptional returns in the form of web traffic and more effective lead generation.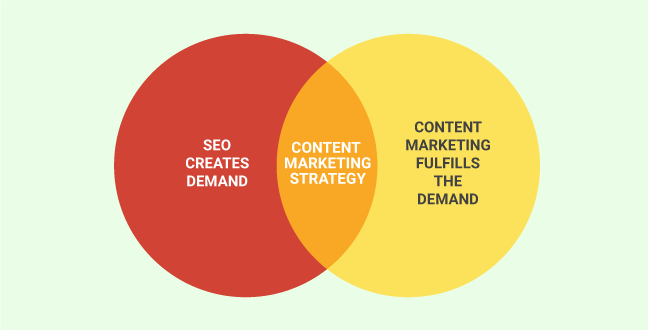 Image Courtesy – Coursify
Moreover, as all of it is organic in nature, not only are you saving on a lot of resources but the longevity of this content as a marketing asset is further maximized.
Good content, especially original research and case studies, gets cited a lot which further drives more organic traffic to your website and boosts your SEO ranking further, turning into a complete positive feedback loop.
More qualified and high-quality leads –
High-quality content attracts a lot of organic traffic on the internet and it also brings along more businesses who are looking for an expert who can provide them value solutions with.
The elaborate display of expertise, trustworthiness, and authoritativeness enabled by content marketing and backed up by a good SEO rank helps you stand out from among your competitors and be presented as the best option for potential business clients.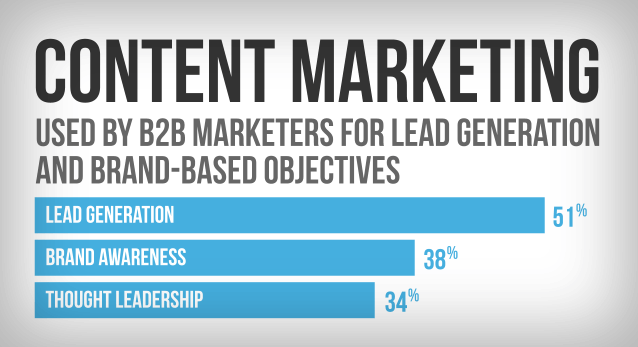 Image Courtesy – Purely Branded
The above factors instill confidence among potential business clients about the value you're providing and as a result, many of them are already looking forward to making a purchase from you.
Content Marketing not only helps you generate more qualified leads but also ensures they enter the sales funnel directly at the advanced stages.
These leads not only move quickly through the sales funnel but in most cases add significantly to your Recurring Revenue.
Good Content earns your free Backlinks –
Backlinks are necessary for building trustworthiness before any search engine and especially Google. Now, it is well known that businesses pay a lot for high-quality backlinks which are necessary for good SEO ranking.
Producing high-quality content in any form has multiple benefits as stated above but an important one is that it earns your free backlinks. Consider this article as an example, every infographic we used herein has a source link.
So the creators of those infographics earned free backlinks just by creating high-quality infographics.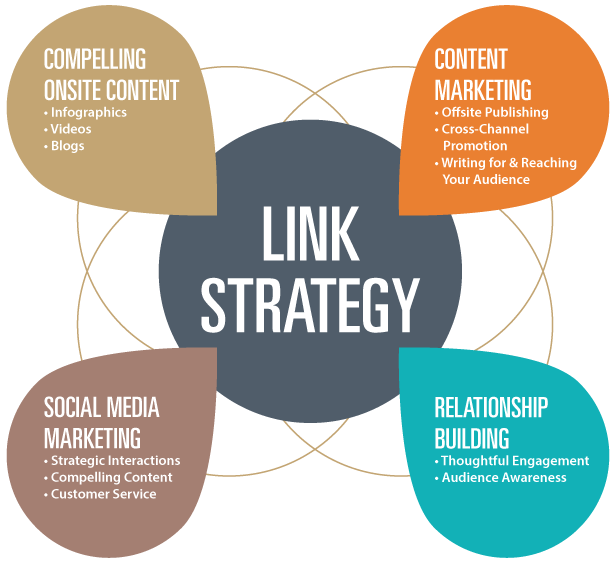 Image Courtesy – Maple Computers
Original Industry Research is similarly effective as others in your industry will cite your work in their blogs when they make use of any facts or figures you came across through your research or case study.
The key here is to ensure you include a lot of numeric data and statistics in your infographics as they are easy to grasp and have higher chances of being used by others in their blogs. It is also beneficial to make sure the image has high resolution and is yet light in size.
Boosts Social Engagement –
High-quality content is at the core of any marketing activity and the digital age has only consolidated this understanding.
Having a strong content marketing function ties well into Social Media Marketing as well.
More than 80% of the B2B Marketers use content marketing in tandem with social media marketing with the objective to reach the right people at the right time with the best content possible usually on channels like LinkedIn, Twitter, and Facebook.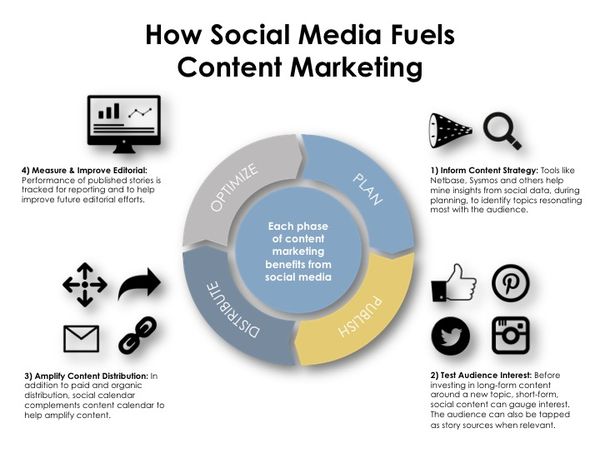 Image Courtesy – Typepad
Good content boosts engagement on these channels which in terms has the social media algorithms boost your reach which turns into yet another positive feedback loop.
When you have a good reach and social engagement on business-centric platforms such as LinkedIn and Facebook, it subsequently translates into high-quality and qualified inbound leads that keep growing and adding to your business.
Lets Recap
B2B Businesses operate differently compared to B2C Businesses and hence Marketing to B2B Businesses too, differs from mainstream Marketing.
B2B clients know exactly what they need, and search for an expert who can provide them with the solutions they require.
Content Marketing is the best and an organic way to appeal to B2B customers as it helps establish your business as an expert in the field.
Moreover, as you're able to showcase the level of your expertise quite effectively, you generate more qualified and high-quality leads.
Content Marketing helps you boost your SEO significantly and the backlinks resulting from creating high-quality content further add to your SEO performance.
Social Media too benefits from content marketing and can help generate additional qualified and high-quality leads through Social Media channels.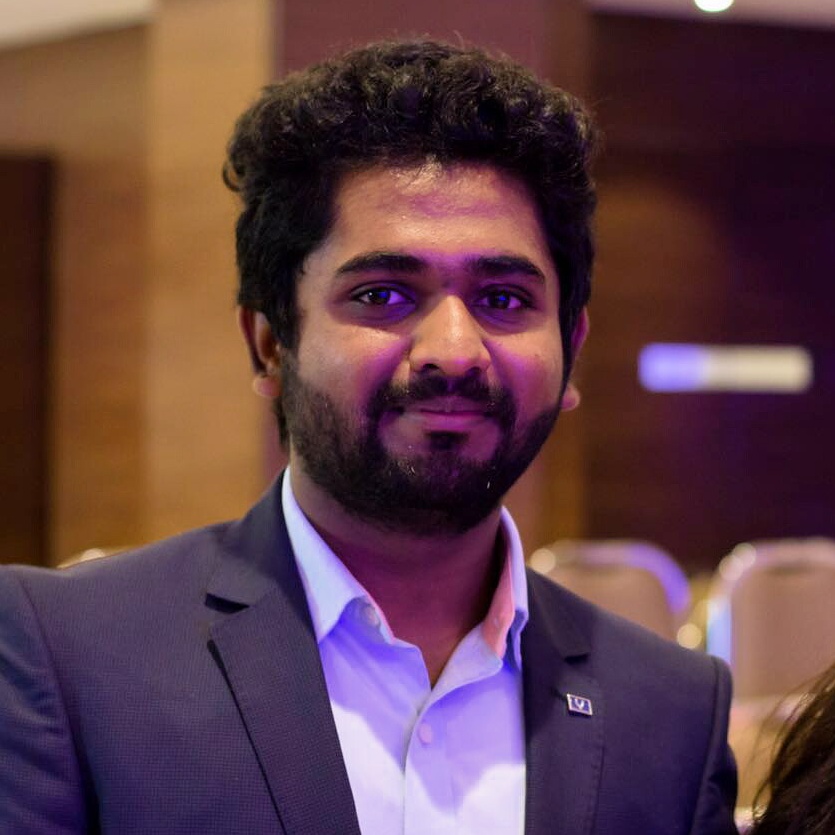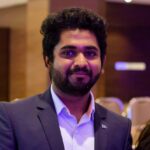 Meghraj is a B2B and SaaS content marketing specialist. He is skillfully able to drive organic traffic growth using high-quality content that ranks on Google. He's a real estate enthusiast and hunts for good deals in his spare time.